There were alot of things that I learned (the hard way) in 2019 that I know would be wise to keep in mind while wandering through 2020. In 2019, I lost alot, gained alot, cried alot, thought alot, lived alot, and laughed alot; it was a year full of new experiences, some good and some bad. Nevertheless, I learned so many lessons through it all and while plenty of it hurt, I can say it was all well worth it. Since I love and appreciate all of you, I thought I'd share some of those lessons in hopes that my journey will continue to help and guide you. [My early apologies if you're a dedicated reader and happen to notice if any of these lessons blend with the past "lessons" posts.
You win some, you lose some.
Your heart is a muscle.

Physically and metaphorically – your heart is a muscle, don't be afraid to use it, flex it, exercise it. It may bruise but trust me, it'll heal.

DO NOT and I repeat DO NOT mistake settling for comfort and actual happiness.

This can be a confusing thing because so often we mistake being comfortable with happiness only to realize retrospectively that it's not happiness but in fact, we settled for less than our worth because we got comfortable and forgot to continue to strive for more.

Stop allowing seasonal people to affect you so strongly.

This should be self-explanatory, but it's an essential lesson that we often forget. You're a privilege, not an option.

PROTECT YOUR PEACE AT ALL TIMES.
Take pride in the little things.

We often forget to be thankful for the little things that many others aren't blessed with so be grateful and seek peace within that.

Believe in yourself and your brand.

If you convey that you already believe in yourself then there is no telling where you'll end up. Keep going. Keep believing, IN YOU.

Fight for yourself!

This can mean a million things but the main point I want you to take away is that you should always be in your own corner, rooting for yourself to do and be better however that may mean to you. Just don't ever give up on yourself. Keep fighting. Keep loving you. Keep rooting for you the way that Issa Rae exclusively and unapologetically roots for everybody black.

Be kind to yourself.

This is an imperative lesson because I promise you, you're not as bad as you may think. Be kind to yourself, it's key to self-improvement.

Don't be afraid to have the Dave Chapelle mantra some days.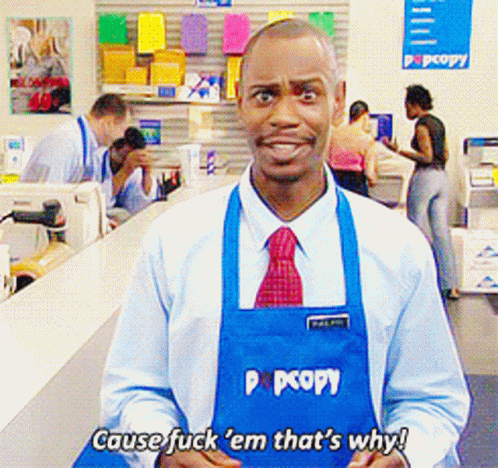 Well, I hope that you're able to take some of these lessons and implement them into your own life. See you next week, Insha'Allah (God-willing).
As always,
Keep living, loving, and laughing.